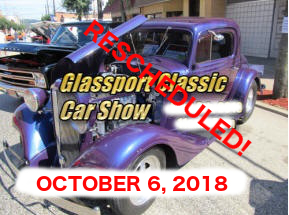 Car Show officially RESCHEDULED for Saturday, October, 6th. Same time 11am to 5pm
6th annual Glassport Classic Car Show has been rescheduled for October 6th, 2018.  A few of us attended last year and it was a blast!  Over 275 cars/trucks/motorcycles of all types where represented.
Check out the "Blog" page for more details, and there will be an email sent out to all club members with full details…
My son has a Italian Pizza restaurant named Falorio's in the middle of the Monongahela Ave strip where the cars are displayed.  I will be reserving spaces in front of his restaurant again this year, so reserve your spot by contacting me via ccwp@ccwp.org.
Of course food will be offered by several establishments on the main street and my son will have both outside tent setup and dine-in for 35 people inside…
Come hang out with your CCWP buddies!