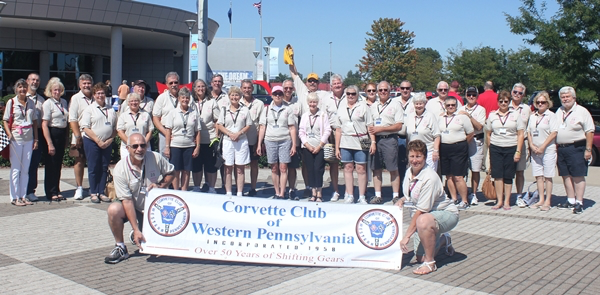 Our Mission Statement
Simply put, our mission is to provide a platform for Corvette owners and their spouses or domestic partners to gather, corroborate, build relationships among Corvette owners, dealers, factory; and promote and improve fellowship among Corvette owners and enthusiasts.
Our Vision Statement
Offer a forum to club members to create a community of like-minded individuals to share ideas, engage in fun events involving their cars, promote friendship, common interests, provide for the dissemination among Corvette owners of relevant technical data and opportunities to get out and drive their American icons.

Looking back…
We are approaching our 60th Anniversary of the Club in 2018, lets reflect on how it got started and the people that made it happen….
With humble beginnings actually going back to 1956, it wasn't until 1958 that a group of interested Corvette owners responded to a call by charismatic Canonsburg, PA Chevrolet dealer Don Yenko, resulting in the formal incorporating of CCWP. In addition to Yenko, other Club members including Ed Lowther of McMurray, and Donna Mae Mims of Pittsburgh, became national SCCA driving champions. Mims was the first woman in U.S. history to earn this achievement.
Grady Davis, VP. of Gulf Oil here in Pittsburgh, joined CCWP in 1959, and his friendship and association with Yenko and the Club, led to the first ever serious corporate sponsorship of a race team in 1960. This was way before such sponsorships now seen and taken as the norm at NASCAR, pro, and even amateur racing events. Through the Yenko links to GM, particularly with Chevy General Manager Ed Cole, Davis soon had a direct pipeline to Corvette Chief Engineer Zora Duntov, and the Gulf Oil Racing Team literally took off. Club members supported the team as pit crew and more . Bill Bostrum of Bethel Park, worked with the team on the way to becoming Club President. Bill worked with Yenko and some other Club members to install the first 2-way radio communication system between a racing driver and his pit chief.
Corvette Club of Western Pennsylvania celebrated its 50th anniversary in 2008 with a slogan no other similar club can match: "Shifting Gears for 50 Years."
"There were no Corvette clubs in 1953 when the first true American sports car rolled off the General Motors assembly line in Flint, Mich. It didn't take long, however, for 'Vette enthusiasts like Donna Mae Mims of Bridgeville to help get a local club rolling. Mims, who's now behind the wheel of her ninth Corvette, is one of the earliest members of the Corvette Club of Western Pennsylvania"

Rick Star (Tribute-Review)
"The common thread through ALL the years, is the certain few members who made a commitment to give personal time and talents to our humble organization so that fellow Corvette owners can have a little more fun and enjoyment that they couldn't experience travelling alone. Anyone that's been part of a caravan of 10, 20, or 30 Corvettes, or been part of a group pulling into a small town, knows exactly what I mean."

John Walko (President 2008) – 50 year Anniversary pamphlet in 2008 and courtesy of past President, Frank Paolo
The Board