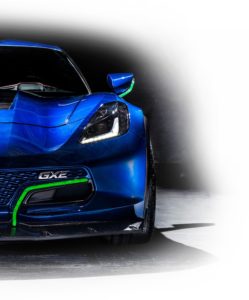 Last year, Rockland, Maryland-based Genovation Cars announced the second generation of its electric sports car, the GXE – which stands for Genovation Extreme Electric. This week, the company announced the pre-production GXE will make a silent splash at next month's Consumer Electronics Show
The second generation switches to the C7 Corvette Grand Sport, the new GXE's two electric motors should get something like 800 hp and 700 pound-feet of torque. All of that power, mind you, goes to the carbon fiber wheels at the rear. On top of more powerful electric motors, Genovation upped the battery capacity from 44 kWh to 60 kWh and maintained 50/50 weight distribution. Range is said to be around 150 miles if you play Holly Golightly with the throttle pedal, or just enough for two UFO-sounding laps of the 12.9-mile Nürburgring. Genovation says the bolt to 60 mph happens in under three seconds – a traditional Grand Sport does it in 3.5 seconds – and top speed will be on the far side of 220 mph.
The coming GXE proves the adage that the best things in life are free, the second-best things in life are hideously expensive. Each of the 75 examples Genovation plans to build will cost $750,000. The limited run helps keep the price high, and buyers can opt for a feature not seen on any other electric car we know of: a seven-speed manual transmission. The company believes it won't have any trouble finding buyers, and plans to use the haul of loot to finance a less expensive electric sports car called G2. Genovation has schedule GXE deliveries to begin at the end of 2019.