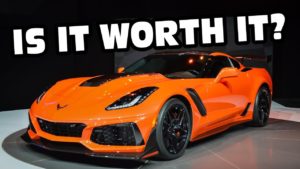 IS IT WORTH IT?  The very first 2019 Chevy Corvette ZR1 with VIN 001 sold this past weekend at the Barrett-Jackson auction in Scottsdale, Ariz. for $925,000. One-hundred percent of the proceeds from the auction go to the Stephen Siller Tunnel to Towers Foundation and its Building for America's Bravest program.
"The Siller family started the foundation to honor the memory of their brother Stephen who lost his life on Sept. 11, 2011, as a New York City firefighter. The program builds smart homes for catastrophically injured service members returning home and first responders. Each home is custom designed to the needs of the individual while also being energy efficient, easily accessible, and automated."  ANTHONY ALANIZ, Associate Editor
The winning bid came from Rick Hendrick, chairman of Hendrick Automotive Group and owner of the Hendrick Motorsports NASCAR team.
"Chevrolet's Corvette ZR1 is a bonkerballs flagship supercar like none the US has ever produced, with 755 supercharged horsepower and an easy-peasy 210 mile per hour top speed. It's available with a big ole wing and awesome lightweight track-focussed wheels. If you like V8s and power and America, you'd be silly not to want one. This Corvette looks like a million bucks, or at least $925,000." According to  Kristen Lee – Jalopnik
So the question is "IS IT WORTH IT" and how long before Rick Hendrick will see a profit on this investment?  It's a great car in my opinion, but its new and time will tell on how many will be sold and how it will be received by the general public…  I would still like to own it but can only afford to pay around $925 (remove all those zeros)!